Acupuncture was one of those things that I thought about checking out for years before actually doing it.   I had lots of reasons why not to go but I didn't have any reasons why to go.  I simple didn't understand the range of issues, illness, and injury that acupuncture can treat.
While living in Portland I worked at Yoga Pearl, a vibrant space filled with yoga classes, massage therapists, acupuncturists, and naturopathic medicine.  My job was basic front desk duties; help yoga students, answer phones, book appointments for the practitioners, and answer questions about the practitioners.   It was time to see what this acupuncture thing was all about.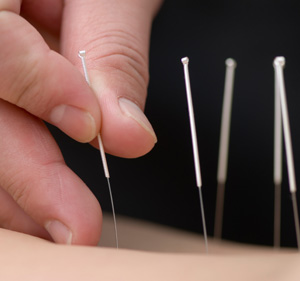 This was around 2006 and I'd been living with chronic, miserable insomnia for two years already.  I figured that was a good place to start with acupuncture.
And it was.  I still lived with insomnia for several more years but it slowly started to dwindle and I know that acupuncture helped that along.
Acupuncture is still a mystery to me in many ways but I don't mind that, in fact I like that part of it.  I feel like I don't expect specific results and can just stay open to the overall healing aspect.  For example, I don't necessarily sleep better the night after a treatment but over the next week I will notice that I feel better during the day, experience less anxiety around going to bed, and got more rest at night.
The biggest benefit I've experienced from acupuncture is a huge boost in my immune system.  If I get a treatment as I feel a cold or illness coming on the needles stop the funk in its tracks.  Seriously.  It's awesome.
I love acupuncture but the actual experience of it isn't always fun or pleasurable.   After a short consultation with the acupuncturist, where she'll likely look at your tongue, check your pulse, and ask you about your bowel movements (for real) you usually lay on a table similar to a massage table.  Depending on where you are getting needled you leave your clothes on or get partially undressed.  Where I go now I leave my bra and underwear on and she covers those areas with little towels because she needs my stomach and thighs exposed for needles.  Some places offer "group" acupuncture that is often done with clothes on while sitting in a recliner type chair.
Once I'm on the table my acupuncturist works fast, placing over a dozen needles all the front of my body by first swiping my skin with an alcohol wipe then tapping a needle into place.  Once it's in place she sometimes give it a little wiggle, which often sends a zig to the surrounding area.
I'm not afraid of needles at all but I wasn't sure if I would like getting stuck with them over and over again.  If I'm on the verge of sick than the needles often feel intense, sometimes even painful, going in.  Chalk it up to a blocked qi I guess.   Otherwise the needles don't usually hurt but they don't feel good.
After becoming a pin cushion I'm left to marinate for about 20 minutes.  This is my most and least favorite part.  You're not supposed to move around much so for 20 minutes I lie like a corpse with only some flute music and my own thoughts to keep me company.   As a chronic multitasker this is an awesome challenge for me.  I think it's one of the things that secretly brings me back to treatment; forced meditation.  The place I go to now tucks a little buzzer into your hand in case you need something during this time.  I've never used it but it does give me a little comfort.
When my acupuncturist comes back in the treatment room she zips around the bed gently pulling out the needles and pressing a cotton ball on the spots to stop any drops of blood.   I then flip over and we repeat the process but these needles don't stay in as long. By the time I leave I can't even tell where the needles were!
I leave treatment feeling either sleepy or rejuvenated but always clear headed and happy, which continues for several days after treatment.  I sleep better and get sick less when I get acupuncture regularly.
This is what I've experienced with acupuncture, Caitlin wrote a great Acupunture 101 post for more details on what acupuncture is and how it works.