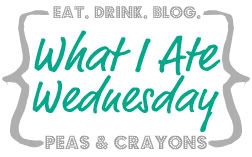 Nearly every Wednesday I think to myself, "oh crap, I forgot to take pictures for What I Ate Wednesday", then promptly forget about the whole thing until the following Wednesday.
This blog is not at all a food diary but I have gotten requests from readers to do a post on what I eat regularly.
I remembered this morning!
Here's breakfast.
Pretty typical for me.
Homemade plain yogurt made with grass-fed local milk with a sprinkle of cinnamon
Lemon water (I start most mornings with either lemon water or water with a little raw apple cider vinegar for these reasons)
Coffee!  I usually take it black but it was extra thick this morning and I had some extra milk in the fridge
A homemade, clean out the freezer, muffin that looks meh but taste rather good
Almonds and my medicinal 2 Brazil nuts
Lunch! Eaten early and quickly, between working at the clinic, a conference call, and teaching dance at the college.
Super typical lunch thrown together from fridge staples.
Things I craved today but haven't eaten: capers, cantaloupe  and crackers.  For real.  How about you?